UREC

/

Night of the Living Deadlift
Night of the Living Deadlift: Oct. 27
Stay alive as long as you can in this deadlift only competition. The bar will start at 95 lbs. and keep going until no on can lift it anymore. No restrictions on equipment or technique; straps, hitching, suits, sumo/conventional are all allowed. Personal records are celebrated and awarded along with best costume. 
See rules below.
Friday, 10/27
3-5 p.m.
Chinook B40
Free Entry, Up to 35 Participants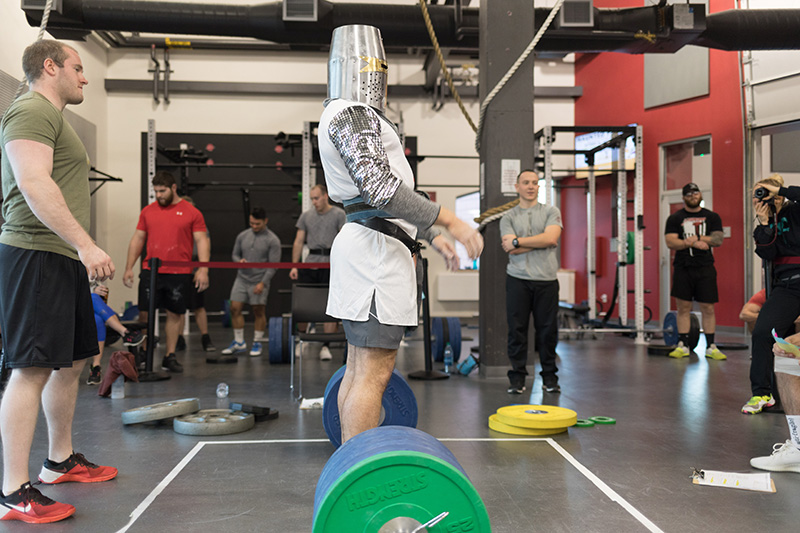 THE RULES
This event is for the deadlift only.
Lifters may select any number of attempts on the board.
Each lifter must complete the required interval weights before moving on to heavier attempts. Required intervals are at 95, 135, 185, 225, 275, 315, 365, 405, 455, 495, 545, 585, 635+.

Between the required intervals there are additional weights if a lifter wishes to attempt it or go for a specific personal record. These are not required to progress.

Any attempt failed for technical reasons may be re-attempted one time. Lifter will have 1 minute to return to the platform for re-attempt.
Lifters are eliminated for failing any attempt or waiving required intervals.
Awards will be given to heaviest lift, any PRs, and a variety of secret awards to be given at the end. Stick around!

In the event of a tie for heaviest lift, the lifter with the higher DOTS coefficient will be given the award.
LIFT CRITERIA
The bar will be loaded on the platform in a position parallel to the front of the platform. Platform will be free of any unnecessary equipment including deadlift jacks.
A single spotter will be present for each attempt. The spotter will remain off the platform at the ready in case of a syncopal event or other that requires the rendering of aid.
Lifter assumes a position facing the bar. Sumo or conventional stances are allowed.
The attempt begins when the bar leaves the floor.
The bar is pulled in an upward motion until the lifter is standing erect with knees locked and shoulders slightly behind the bar when viewed from the sagittal plane.
Once lockout is attained and the bar is motionless, the bar is lowered under control with both hands back to the ground.
No commands will be given. It is up to the lifter to ensure lockout is attained before lowering the bar.
Hitching is allowed. Bar path going up-down-up on the way to lockout is not reason for disqualification.
EQUIPMENT
Allowed equipment: chalk, belt, straps, wraps, sleeves, and suits.
Foot coverings are required. If you choose to lift without shoes, you must still be wearing socks.
QUESTIONS
Is there a cost for entry? Registration is free!
What are the rules for equipment? Can I use straps? This is an "anything goes" event. You can use straps, sleeves, belts, suits, hitching, no shoes, whatever it takes!
Will there be warm up space? There will be some bars nearby to warm up for deadlifts. Also keep in mind that you must complete the required intervals, so a majority of your warm-ups can be completed on the platform.
Is this sanctioned? Nope! This is all just for fun.
Are there prizes? Yes, we have a wide variety of prizes. Not just for the heaviest lift, but also for PRs and other secret awards. Stick around until the end!
Do I have to do lift all of the intervals? You are only required to complete the required intervals to progress past that point. For example If you complete 135 lbs, you're free to skip all the attempts until 185 lbs if you do not want them.
Can I bring my friends? You must be registered to compete, and we will have a seating area for anyone who wants to watch.
Am I strong enough to compete? This event is designed to celebrate all skill and strength levels. We just want to have fun!
SCHEDULE
Arrive a half hour before competition for weigh in, attempt selection, and to get familiar with the equipment.
Be present for rules briefing 10 mins before competition.
Competition starts on the hour with 95 lbs on the platform.
Competition ends once the heaviest weight has been lifted.
Awards and prizes given out after competition ends.
THE WEIGHT PROGRESSION (lbs)
Required attempts are listed below in bold italic. Other weights listed are optional.
| | | |
| --- | --- | --- |
| 95 | 105 | 120 |
| 135 | 155 | 170 |
| 185 | 200 | 215 |
| 225 | 245 | 260 |
| 275 | 290 | 305 |
| 315 | 335 | 350 |
| 365 | 380 | 395 |
| 405 | 430 |   |
| 455 | 475 |   |
| 495 | 520 |   |
| 545 | 565 |   |
| 585 | 610 |   |
| 635 | 655 |   |
| 675 | 700 |   |
| 725 | 745 |   |
| 765 | 790 |   |